Dr Michael Bialoguski
Character: Dr Michael Bialoguski
You have been subpoenaed to appear before the Royal Commission on Espionage. A subpoena is a formal written order issued by a court commanding a person to appear under penalty as a witness in a trial or an inquiry such as a Royal Commission.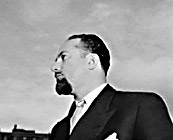 All three members of the group will work closely together to prepare for the Character to appear before the Royal Commission. This will involve:
Preparing a speech (testimony) which outlines, from your point of view:

who you are;

your views on communism and the USSR (Soviet Union);

your role in the Petrov Affair.

Preparing evidence (facts, documents etc) that supports your case.

You will be called when the Royal Commissioners are ready for you.

Be prepared to answer any questions from the Royal Commissioners especially about Soviet espionage in Australia.
Background
Bialoguski is a liar and a hypocrite and a disgrace to humanity Communist lawyer Ted Hill at the Royal Commission on Espionage, 1954

Nobody has authority to force you to remain here. Don't think there is any blackmail. Englishmen are not fools, generally speaking. Bialoguski to Petrov in an attempt to calm Petrov's fears regarding meeting with ASIO's Ron Richards
The CODE NAMES for Bialoguski
Russian CODE NAME: GRIGORII
Australian CODE NAMES: DIABOLO, JACK BAKER, PHILLIP CRANE
Resources:
Old Parliament House Petrov Affair website – Spies